Organization of air ambulance flights
Gulfstream 100 for Ambulance Flight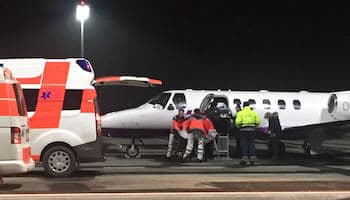 The Gulfstream 100 for ambulance flight is powered by Honeywell TFE731-40R-200G turbofans engines. Its cabin of the Gulfstream 100 can be arranged for 1 patient and up to 1 passenger.
The engines are mounted in nacelles on the sides of the aft fuselage. The use of a widened fuselage that allows a walk-about cabin and is designed with a supercritical wing.
Facts and Figures
Passenger capacity: 1 Stretcher (ICU unit) up to 1 Passenger (PAX)
Cruising speed:        852 km/h / 460 kts
Range: max.             5000 km / 2700 NM
Runway required:     1.500 m / 4.800 ft
Max. altitude:           14.000 m / 51.000 ft
Crew:    2 Pilots, 1 Doctor and 1 Paramedic
You can book the Gulfstream 100 for ambulance flight by a patient and up to 1 family member. However, the flight doctor must confirm in advance that this is possible.
Important! You must send us all the medical records when making a request. Therefore, you also need confirmation from the patient's physician that the patient can be transported by an ambulance aircraft.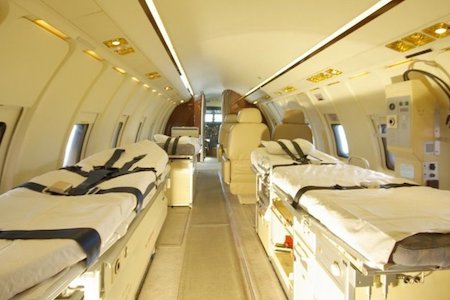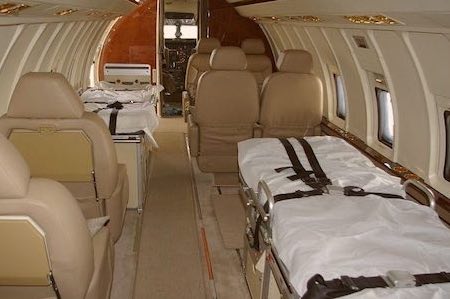 Book the Gulfstream 100 for Ambulance Flight
BOOK COMPLETE ORGANIZATION
Daily and Weekly air ambulance flights
WE OPERATE AIR AMBULANCE FLIGHTS TO GERMANY
We carry out daily / weekly air ambulance flights for patients and relatives to Germany