EMERGENCY AIR AMBULANCE FLIGHT TO GERMANY
Air Ambulance Flight Service when time matters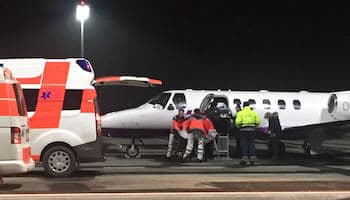 Book Air Ambulance Flight to Germany
Air Ambulance Service Germany (AASG) operated by Surgical Experts has more than 15 years experience in the organization of emergency air ambulance flights to Germany.
Our staff is available 24/7 (EMERGENCY ONLY!) and can quickly organize your ambulance flight to Germany. Of course, we offer our service both directly to patients and their relative provided that there is the possibility to take a family member on board.
Because of limitation by the flight doctor, it can happen that no passenger can fly with the patient to Germany. Because enough space for medical care – on Board – per instance is needed. Therefore, we recommend in this case to book a larger aircraft for the air ambulance flight.
We offer emergency air ambulance service to Germany as well as on behalf of companies, states, stately health offices, Ministry of Health (MOH) or NGOs.
"We fly you fast and safe to Germany"
EMERGENCY AIR AMBULANCE FLIGHT TO GERMANY
When Time and Health Matters!
WE COMPARE PRICE OF MORE THAN 30 FLIGHT OPERATORS
AIR AMBULANCE SERVICE GERMANY
Compare price of air ambulance flight to Germany
SEE FLEET AND AIRCRAFTS FOR AMBULANCE FLIGHTS TO GERMANY
We offer complete Door to Door & Hospital service
COMPLETE PROCESSING SERVICE BY ONE HAND
Daily and Weekly ambulance flights to Germany
WE OPERATE AIR AMBULANCE FLIGHTS TO GERMANY
Saudi Arabia to Germany
Kuwait to Germany
Qatar to Germany
Bahrain to Germany
Oman to Germany
Egypt to Germany
Russia to Germany
Kazakhstan to Germany
Asia Region to Germany
Tanzania to Germany
(Due to insurance reasons we do not fly at the moment to the following countries: Iraq, Libya, Syria, Sudan and Afghanistan. If you are from any of these countries contact us. We information about the airport and country you we fly in.)
We are able to compare price for an ambulance flight from more than 30 flight operators to get the best offer for you.